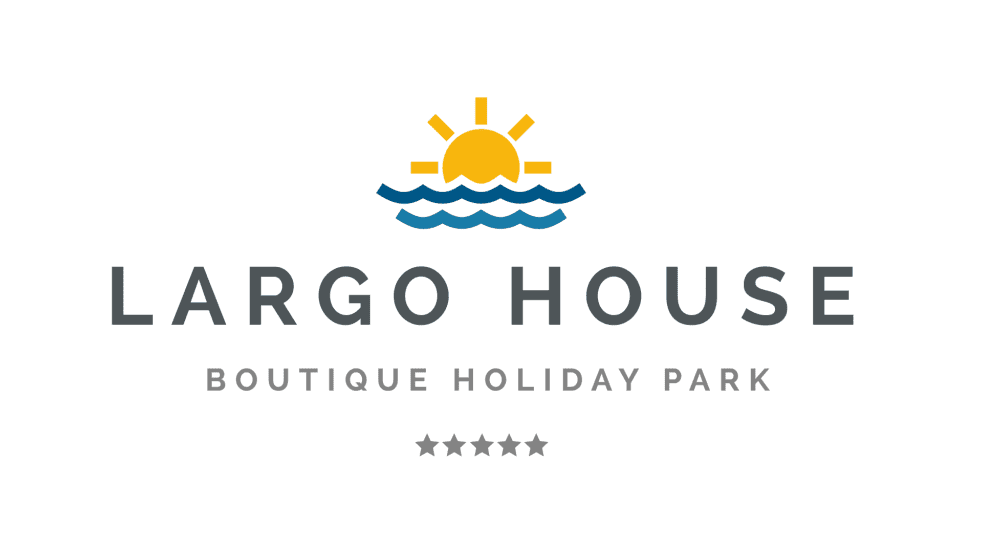 Largo House – A 5 Star Retreat on the Stunning Fife Coast
Shhhhhhhh!  Largo House Country Park is Fife's best kept secret! Situated on the gentle slopes of the Neuk coastline, this tranquil park nestles between upper and lower Largo, enjoying magnificent  views of Edinburgh and Largo Bay. The quaint harbour and magnificent beach of  Lower Largo are only a wee walk away,  and a  short drive will take you to the picturesque town of St. Andrews which is the historic home of golf. Also nearby are the attractive fishing ports of Crail, Elie, Anstruther and many other beautiful places.
The park itself has been designed with peace and tranquillity in mind with many of our pitches enjoy unprecedented views of the coastline, Edinburgh or the lovely surrounding countryside. Here at Largo House Country Park we pride ourselves on our exclusivity.  Hosting just 52 caravan holiday homes, this is an ideal hideaway for the discerning holiday home owner who values peace & tranquillity and of course is ideally located for those that like to spend their days enjoying the pleasures of 18 holes!
As Haven of calm our facilities are kept  to a minimum.  We enjoy a modern underground system of piped gas, electronic security gates, a reception with book & DVD exchange and a fully equipped launderette for those longer stays.   All overseen by our full time manager, who's focus is always the well-being of our customers.
Exceptional Park Standards
We're very proud of the standards at the park and pride ourselves in offering all of our static holiday home owners and visitors a five star, exceptional experience. All the static caravans for sale in Fife that we offer come fully guaranteed and we aim to ensure that at every visit our customers have a wonderful time and that they leave the park relaxed, refreshed, and rejuvenated!
Jeff, our Park Manager will ensure that the lawns and gardens are never anything less than immaculate so that you can enjoy a stroll and admire the wonderful array of plants and flowers, as well as the butterflies and birds. We cut the grass so that you don't have to! Just kick back and relax – after all that's why you're here!
If you'd like to learn more about the static caravans for sale in Fife, then please feel free to call us, or leave your details on the "contact us" page and we'll be in touch soon.
Download Our Caravan Holiday Home & Luxury Lodges Brochure & Book A VIP Tour
We would love to welcome you to our 5 star, award-winning park. Please fill in your details below and you will instantly be able to download our information pack. We look forward to seeing you here in beautiful Fife.
Keep Busy In & Around Fife, Scotland
Why Buy a Holiday Home in Fife, Scotland?
Fife is a stunning, highly sought after Scottish County

Beautiful yellow sands and clean seas

We have breathtaking views

Lots of great culture and pockets of villages

Scenic walks and cycling trails

Great access to wider Scottish locations

Much, much more
Our Latest News, Views & Connections

Largo House Country Park
Upper Largo – Leven
Fife
KY8 6EF
Tel: 01333 329 489
Think someone would love this? Share the page with them today