Keep Busy In & Around Wakefield, West Yorkshire
Why Buy a Holiday Home in Wakefield, West Yorkshire?
Exclusive 24/7 access to 350 acres of National Trust land

The magnificent Nostell Priory as a neighbour

Incredible access to major Yorkshire towns and cities

Lots of great culture

Scenic walks and cycling trails

Great access to shops, restaurants and cafes

Much, much more
Nostell Priory – Our Beautiful Location
Wakefield
The ancient town of Wakefield lies on the north bank of the river Calder, at a point where a principal road from the Midlands into the North is met by another coming in from the Pennine foothills to the west. It is a market town and administrative centre; it is the place which gives its name to a vast manor stretching up to the boundaries of Cheshire and Lancashire, and probably the largest such administrative unit in the country, whose prolific records, now partially printed, survive from 1274. Wakefield's ancient and essential position as a market town survives and is augmented by its two modern shopping centres, the Ridings and Trinity Walk, which, like the market, draw their customers from far beyond the town.
The first documentary reference to Wakefield, as so commonly occurs, is in the Domesday Book of 1086. The town became a partially self-governing borough perhaps before the first surviving borough charter of about 1190, and some of the medieval borough's records survive too, prior to the collapse of its jurisdiction in or about 1580. It became again a (now municipal) borough in 1848, a city in 1888, and a county borough in 1915, until absorbed into the new Wakefield Metropolitan District in 1974. It became a Parliamentary borough in 1832.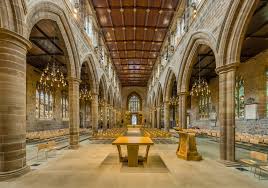 The medieval layout of Wakefield survives recognisably today, with surprisingly modest more modern amendments. The downstream half width of its stone bridge over the Calder was built from 1342, and on it is one of the few surviving bridge chantry chapels, although unfortunately this one was rebuilt above footway level in 1847-8. The town's great parish church, mirroring presumably its piety as well as its wealth, was completed in much of its present form after 1500, but altered, extended, and recased later. With its magnificent tower and spire, the highest in Yorkshire, it became in 1888 the cathedral church of the new Church of England Diocese for the Calder valley. That same year also saw the first provision of a modern water supply for Wakefield, and the establishment of the great West Riding County Council, which ultimately chose Wakefield as the site for its County Hall, opened in 1898.
Wakefield became in late medieval times a cloth finishing and merchanting centre which served a wide handloom weaving area, and increasingly, too, it was a raw wool merchanting centre; some of its cloth merchants' houses and its woolstaplers' warehouses survive. Along with Wakefield's predominance in corn merchanting and livestock dealing in the 19th century, factory based worsted spinning and woollen cloth weaving were developed in the town, and one important yarn-processing firm survives. Coal has been worked in the vicinity since at least Roman times, and from the 18th century and into recent decades it was an important product even of the town itself, not only giving much employment but also fostering the success of associated industries in engineering, boiler and steam economiser making, and ropemaking.
Leeds is a popular city break destination with lots to offer visitors from the UK and abroad.
It is the only English city outside London with its own repertory theatre, opera house and ballet companies. Leeds Art Gallery has one of the UK's best collections of contemporary British art (The Times) and the city is home to the Royal Armouries, the national collection of arms and armour.
There are more listed buildings in Leeds than in any English city outside London, with highlights including the Victoria Quarter, Leeds Corn Exchange and Harewood House, home of the Queen's cousin.
The Rough Guide to Britain named shopping in Leeds as one of the top thirty things to do in the UK, and with five miles of shopping streets and one of the country's largest pedestrianised zones it's easy to see why. Leeds also has an excellent nightlife scene, with numerous restaurants and independent bars, and is one of the UK's best cities for dining out according to the Which? Good Food Guide.
A great sporting heritage is built around world-famous stadiums like Headingley and Elland Road, and there's plenty to get involved in yourself too, from world-class golf to some of the country's best mountain biking.
Leeds is the ideal gateway to the Yorkshire region – the Yorkshire Dales National Park is just 20 miles away, and features some of the country's most beautiful landscapes. Yorkshire is the largest county in the UK, with incredible scenery from inspiring moorlands to stunning coastlines.
Leeds is a thriving, passionate city that you are sure to fall in love with. Rich in culture and heritage, it's a vibrant city with lots to discover and something for everyone to enjoy.
By day, the prosperous business centre offers a diverse range of working opportunities. The fast-paced, buzzing city centre is complemented by stunning local countryside, including the beautiful Yorkshire Dales, which lie within easy reach. There are also an assortment of flourishing local communities – from hidden gems in the inner suburbs to tranquil country towns on the outskirts.
By night, Leeds really comes alive with its wide array of restaurants, bars, clubs and other entertainment. There is a broad range of cultural attractions, including renowned theatre, opera and ballet companies, with something to appeal to every palate.
Sport remains central to city life, especially with the successes of the Rhinos in Rugby League and Leeds Carnegie in Rugby Union. The rugby sides share their home at Headingley Carnegie Stadium with Yorkshire County Cricket Club. Football fans around the world will be familiar with Leeds United and Elland Road. The club was promoted this year and is looking forward to starting next season in the Football League Championship.
Local Attractions
Nostell Priory National Trust and Parkland Estate
Tour the 18th century house, home to a large collection of Chippendale furniture. Stroll through beautiful gardens; look out for wildlife along lakeside paths and fun in the children's adventure playground.
Wakefield Cathedral
This city centre cathedral has been welcoming visitors for over 1000 years. Today, visitors can explore the newly renovated cathedral, browse the gift shop or just take a break in the cafe.
Wentworth Castle Gardens
Wentworth Castle Gardens is a stunning National Trust grade 1 listed park and garden in South Yorkshire. A lovely day out when staying at your home in Nostell Priory. Find out more on the Wentworth Castle Gardens website.
Yorkshire Sculpture Park
Explore open-air displays by some of the world's finest artists, be inspired by the beautiful parkland, lakes and gardens and discover fascinating exhibitions throughout four indoor galleries.
The Hepworth
Located a short walk from the city, this unique gallery brings together work from Wakefield's art collection, exhibitions by contemporary artists and rarely seen works by Barbara Hepworth.
Yorkshire Wildlife Park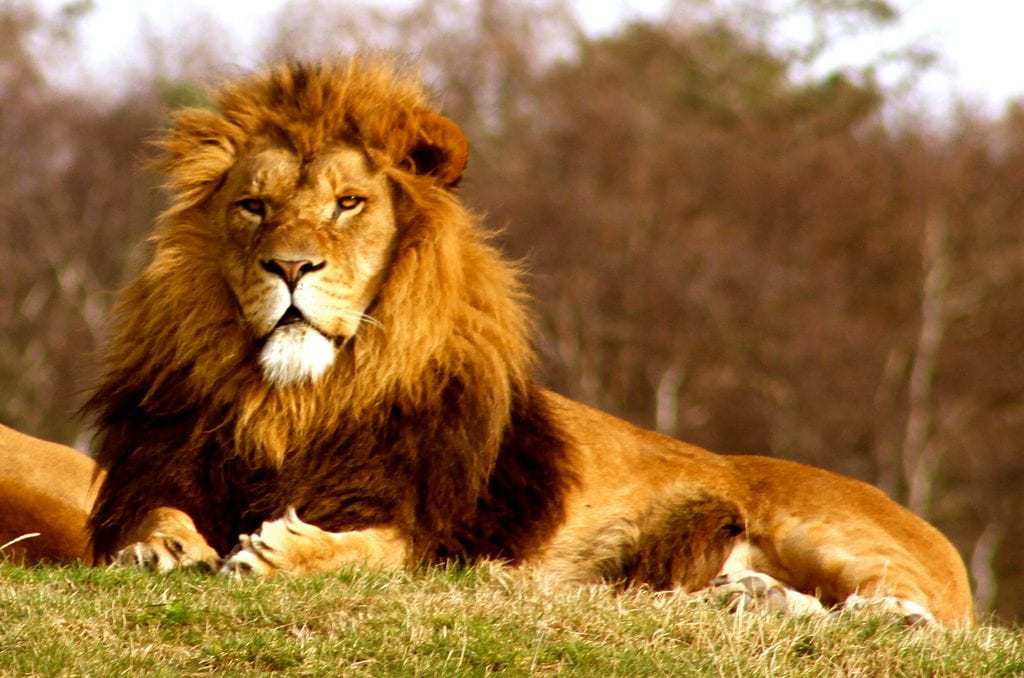 South Yorkshire's award winning attraction. Situated just outside Doncaster, the park occupies 70 acres of a 260 acre site, offering a unique view into the world of animals with walk-though areas.
Pontefract and Sandal Castles
Learn about the history of the castles through hands-on displays in the visitor centres. Climb the steps at Sandal for panoramic views of Wakefield or explore the underground magazine chamber at Pontefract.
National Coal Mining Museum
Grab your hard hat, travel 140 metres underground and discover what life was like working in amine. Above ground explore the Nature Trail, say hello to the retired pit ponies and learn about mining communities in the exhibitions.
Crigglestone Viaduct
View the spectacular viaduct at Calder Grove (known as Crigglestone Viaduct). It has 21 arches and was built in 1906 as part of its never-completed Sheffield-Bradford route.
Pontefract Racecourse
The racecourse delivers an exciting, alternative day out, boasting excellent facilities and views of the track from all enclosures and is located just a short walk from Pontefract.
Diggerland
Ride, drive and operate full size construction machinery in this unique adventure park that is suitable for all the family.
Newmillerdam Country Park & Boathouse
Explore 237 acres of beautiful woodland and lakeside paths. Look out for the special events at the historic boathouse throughout the year.
Pugneys Country Park
Take to the water and discover the wide range of water sport activities on offer. Bring your own equipment or join in on one of the many courses. Otherwise, just enjoy a leisurely stroll along the peaceful lakeside paths.
Theatre Royal
Enjoy the magic of the theatre in a grade II* listed building during one of the many shows or discover secrets behind the scenes in a backstage tour.
Waterton Discovery Centre & Anglers Country Park
Enjoy a gentle stroll around the lake, visit the Discovery centre for information and activities, cafe and play park. Bikes hire available and free mobility scooter hire.
Xscape
Experience the thrills of a real snow slope, real wave surfing, rock climbing and more. Take time out to browse the shops, go to the cinema and relax at one of the many restaurants, bars and cafes.
Meadowhall
With over 270 stores, including all your favourite high street names, tempting cafe's and restaurant, a fascinating avenue of craft shops and an 11-screen cinema complex, no two trips to Meadowhall are ever the same.
White Rose Centre
With over 100 shops in the Centre, covering the best of the high street names as well as some more specialised stores. So, if you're looking for fashion, beauty, something for the house, or the latest gadget, we've probably got it right here.
Trinity Walk
With over 60 new shops including all the leading high street fashion brands, a fabulous Debenhams department store and the largest Sainsbury's superstore in the area, it's a fantastic day out for every one of all ages.
Rugby League
Yorkshire is the bed-rock of rugby league. The Wakefield district hosts Rugby's Super League rivals Wakefield Wildcats and Castleford Tigers whilst other nearby cities Leeds has the Rhinos, Huddersfield the Giants and Bradford the Bulls. Catch a game whilst your here.
Football
Wakefield is the largest city in the UK now to not have a professional football club but we do have a selection of big clubs nearby. Leeds United, Sheffield's Wednesday and United not to mention the world's oldest club Sheffield F.C, Barnsley, Doncaster Rovers, Huddersfield Town and Bradford City.
We do have clubs like Ossett Town and Albion, Wakefield FC, Pontefract Collieries, Frickley and our own Nostell Miners Welfare if you want to watch at more grass-roots level.
Cricket
Yorkshire Cricket Club are homed at the world renowned Headingley Stadium, Leeds. Enjoy the cricket in the sun. How's that for a reason to visit?
Tour De France
In 2014 the Grand Depart arrives in Leeds bound for a finish in Sheffield. Nostell Priory is located centrally between both start and finish for an ideal base to view the race.
"It is our escape from the day to day mundane life, it is so peaceful, we love watching the birds and wildlife and just chilling"
Mr & Mrs Gregson
We were looked after really well when we came to look at the site and were not put under any pressure to purchase a van at all. Our budget and preferences were taken into account by Marie and we purchased on our first visit and have not looked back since.
Mr & Mrs D and T Smith
We went to visit Nostell Holiday Park with the intention of just looking and intended going to sites at the coast the next day.  After being shown around by Marie we decided to buy our caravan that day. We loved the location, it was only half an hour from home meaning that after work on a Friday we could be settled in by 6 o'clock.
As soon as we turn into the lane to the site we start to relax, It is our escape from the day to day mundane life, it is so peaceful, we love watching the birds and wildlife and just chilling.
Marie has been great with after sales service and the rest of the team are friendly and obliging.
People on site are so friendly and we enjoy meeting people at the events that the site put on at various times throughout the year.
We have loved our first year on the site and look forward to many more.
Our Latest News, Views & Connections
Nostell Priory Holiday Park
Doncaster Road, Nostell
Wakefield
WF4 1QE
VAT No. GB842461141
Registration No. 05075819
Tel: 01924 863938
Think someone would love this? Share the page with them today